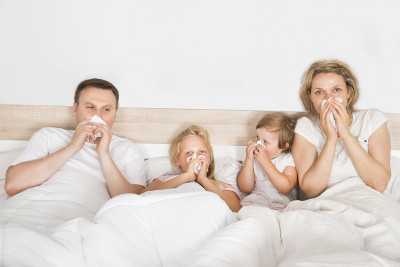 Well, I don't know about you, but winter has well and truly hit in our household now.  Rather than resorting to a trip to the chemist, I like to try and treat our coughs, colds and flu in a more natural way, with good nutrition and supplements for that extra boost.
Herbal teas can be a great way to improve your moods, and having a tea like rose hip is a very pleasant way of increasing your vitamin C intake,  Add a spoonful of honey for your throat, grated ginger, which is high in zinc and some lemon for extra vitamin C.  If it is you that is bedridden, make up a thermos of this herbal tea, and keep it by your bedside while you snuggle with bub.
Vitamin A is also useful, and this is where pumpkin soup or red capsicums can help.  And don't forget your leafy greens!  Green smoothies are an easy way to consume more greens without eating mountains of salad.
I have been collecting a range of goodies to help with the coughs and colds that winter brings.  I hope you might find some of these useful.
Sore Throats
I found some great honey products, which are awesome to have on hand for your labour, but also work a treat with sick kids.  Wholesome honey works wonders on sore throats.  Bee pops are an energy burst of honey on a stick.  Honey straws are an easy way to have honey on hand – pop in your bag for whenever you need them.
If you love a lozenge, Pretorius Throat Clear is a pleasant-tasting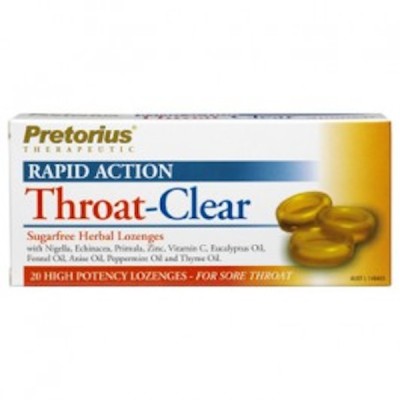 way to soothe your throat, or blocked nose.  They contain a potent blend of herbs and oils, including vitamin C, echinacea, nigella seed, anise, thyme, nigella seed, fennel and peppermint oils and
zinc gluconate.  These provide anti inflammatory, analgesic, antibacterial and antimicrobial properties to soothe and reduce the duration and severity of symptoms.
Essential Oils
There are a range of essential oils which can assist with colds and flu.  Immune stimulants include lavender, garlic, sandalwood, eucalyptus, cinnamon, lemon, rosemary, german chamomile, peppermint, tea tree and thyme.
Anti-microbial oils include clove, thyme, lavender, oregano, eucalyptus, cinnamon, tea tree, lemon, peppermint, lemongrass, sandalwood, grapefruit and sage.
Eco Aroma have a special Sinus Clear Essential Oil Blend, which contains lemongrass,  lime, grapefruit and peppermint essential oils to help treat the symptoms of hay fever, sinus, colds and flu.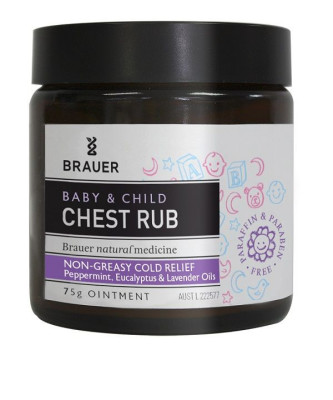 Brauer Natural Medicine Baby & Child Chest Rub is a more natural alternative to the well-known Vicks product, and contains peppermint, eucalyptus and lavender oils, acting as topical expectorants and decongestants to help relive the symptoms and help your little one feel better quickly.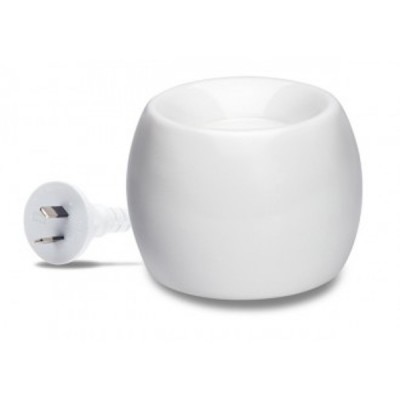 An electric essential oil aromatherapy vaporiser is a safe and convenient way to use your oils to benefit the whole household.
Other supplements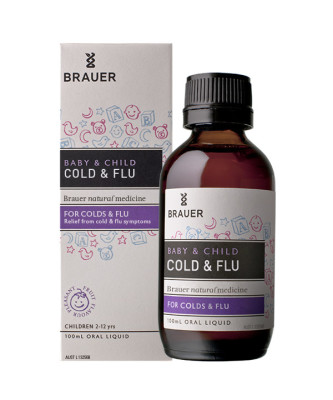 Brauer's Baby & Child Cold & Flu contains homeopathic ingredients to temporarily relive cold and flu symptoms such as a runny nose, sore throat, pain and fever.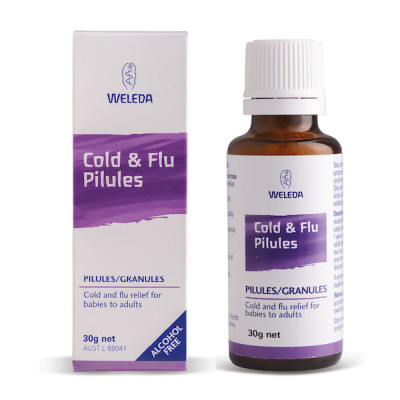 Weleda Cold & Flu Pilules can be taken at the onset of cold or flu to relieve symptoms such as fever, muscle ache, headache, sore throat sneezing and runny nose.  It is ideal for babies and young children as it is alcohol free and dissolves quickly in the mouth.  Contains aconite, bryonia, eucalyptus, eupatorium, ferrum phis and sabadilla.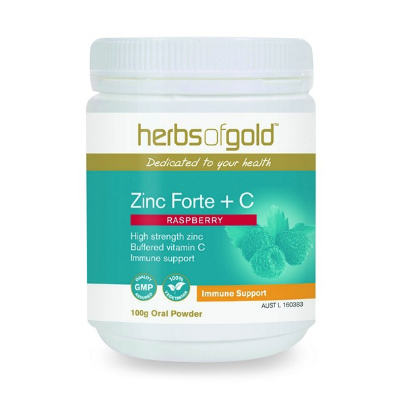 Zinc plays an important role in our body's immunoresponse,and may assist the management of upper respiratory tract infections.  Herbs of Gold Zinc Forte + C is a high strength zinc and vitamin C powder which also includes essential co-factors including vitamin B6, beta-carotene and magnesium.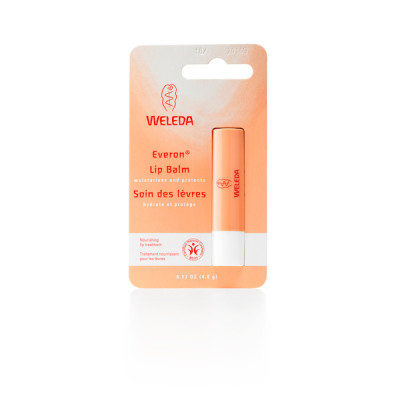 Cracked lips are another common symptom of the colder weather, and we are so pleased to be able to offer Weleda Everon Lip Balm, with beautiful natural ingredients like jojoba oil, beeswax, shea butter, candelilla wax, rose wax, carnauba wax, vanilla and rose extracts to protect your lips from drying, cracking and chapping.  My kids love this product.
In choosing to stock these products to help with your winter wellness, we have taken care to try and include those which can be used with children, but please do consult your health care provider before use.
Some of these items are already discounted, but you can use the code "winter" in the checkout for a discount on the non-sale items purchased before the end of July.  We deliver to your home Australia-wide, for free if you order is over $100.
Don't forget to sign up for our newsletter here, and join our growing Facebook community to stay abreast of Birth Partner's new products and special offers, as well as great information about pregnancy, birth and baby.