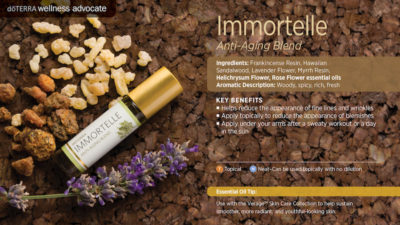 Doterra Salubelle essential oil blend is a soothing blend designed to maintain skin health and vitality.  The oils in Salubelle (called Immortelle in the USA) have been studied for their abilities to help reduce inflammation, protect the skin from UV radiation and promote healthy cellular function and proper hydration of the skin.
Salubelle is formulated to protect and nourish skin, maintaining smoother, more radiant and youthful looking skin.  It absorbs easily into the skin, and can be used on the face, neck and décolletage to reduce the appearance of fine lines, wrinkles and ageing skin.
Common Uses for Doterra Salubelle essential oil blend
aging
chapped skin
cracked skin
dry skin
revitalizing
wrinkles
Single essential oils in the Salubelle essential oil blend
Frankincense Resin – has been studied for its anti-inflammatory properties.  Its anti-infectious property also helps protect the skin from harmful microbes.  Frankincense is also soothing to the skin and nerves.
Hawaiian Sandalwood – has been found in several animal studies to protect the skin from the harmful effects of ultraviolet (UV-b) radiation.  It may also be useful in skin regeneration, and in stopping skin infections
Lavender Flower – has ben studied for its ability to reduce inflammation and allergic reactions in the skin.  It has also been used to help the skin recover from burns, blisters, infections and other injuries, as well as to help reduce conditions related to dry skin.
Myrrh Gum Resin – known to be soothing to the skin, and often used to relieve chapped or cracked skin,  It has been studied for its anti-fungal properties, and is also used to fight many bacterial, fungal and viral infections of the skin.
Helichrysum Flower – used to help relive skin conditions such as eczema and psoriasis,  It has antioxidant properties, and is often used for tissue regeneration, pain relief and healing.  It has also been sued as a natural sunscreen.
Rose Flower – often used to help stop the breakdown of collagen in the skin that can lead to a loss of elasticity and wrinkles.  It has also been used to help prevent scarring, and to help the body overcome various skin diseases and infections.
How to use Doterra Salubelle essential oil blend
Apply a thin layer of Immortelle to the face, neck, and décolletage, then repeat application to targeted areas of concern. Follow with the doTERRA moisturizer of your choice.
Apply to reduce the appearance of blemishes.
Use as part of your morning and night facial routine.
Cautions
Possible skin sensitivity. Keep out of reach of children. If you are pregnant, nursing, or under a doctor's care, consult your physician. Avoid contact with eyes, inner ears, and sensitive areas.  Please use with caution during pregnancy.
Where to Buy Doterra Salubelle
You can buy now, just go to the Salubelle product page.
If you would like to buy Doterra products at wholesale prices, please talk to us about enrolling as a Doterra member.  We can help you with enrolling, and you have a great choice of enrolment kits.  If you want to make up your own enrolment kit, you can talk to us about that too, and we can get you a quote.  Just email nicole@birthpartner.com.au